Healthcare organization structures can be complex and hard to understand. Take hospitals, for example. They must function precisely, offer high-quality services and provide patient satisfaction every minute of every day. Due to growing patient demand, hospitals now function more like businesses and see patients like clients they must satisfy and retain.
In What Ways Are Hospitals Like Businesses?
To manage all departments, hospitals, like most businesses, follow a vertical structure with many layers of management. In Understanding Healthcare Management, Seth B. Goldsmith explains that a hospital typically has three components: patient care, medical staff and hospital staff members. Understanding the healthcare structure ensures team alignment and communication.
Healthcare management professionals and those pursuing a degree in healthcare management must also recognize that a hospital's structure is due to the scope of services offered and the need for reporting and communicating tasks across clinical services. The main characteristics of a hospital's management structure are the following:
Strict chain of command ensures that channels communicate about their services effectively.
Command and control environment allows the order of specific divisions of labor and traces of accountability.
What is the Highest Position in a Hospital?
Hospitals are administered by a governing board that delegates decisions to a hospital administrator. The hospital administrator oversees the functionality of the department heads across the hospital and reports to the hospital executives. Other department heads that work alongside the hospital administrator can include a chief of surgery and a director of diagnostic services.
Leaders that combine strong medical knowledge with management also need the assistance of administrative coordinators and supervisors to keep track of non-medical departments, such as human resources, marketing and food services.
You May Also Like: Healthcare Management vs. Hospital Management
Coordinators and supervisors are often responsible for checking in with resources (e.g., health insurance, policies, requirements) that, despite not being medical, ultimately affect healthcare organizations. These leaders need to stay on track of factors like demographics and competitors to ensure patient satisfaction.
What is the Chain of Command in a Hospital?
Despite its business management style, healthcare management is not concentrated at the top. In other words, the complexity of its structure requires a vertical style of command.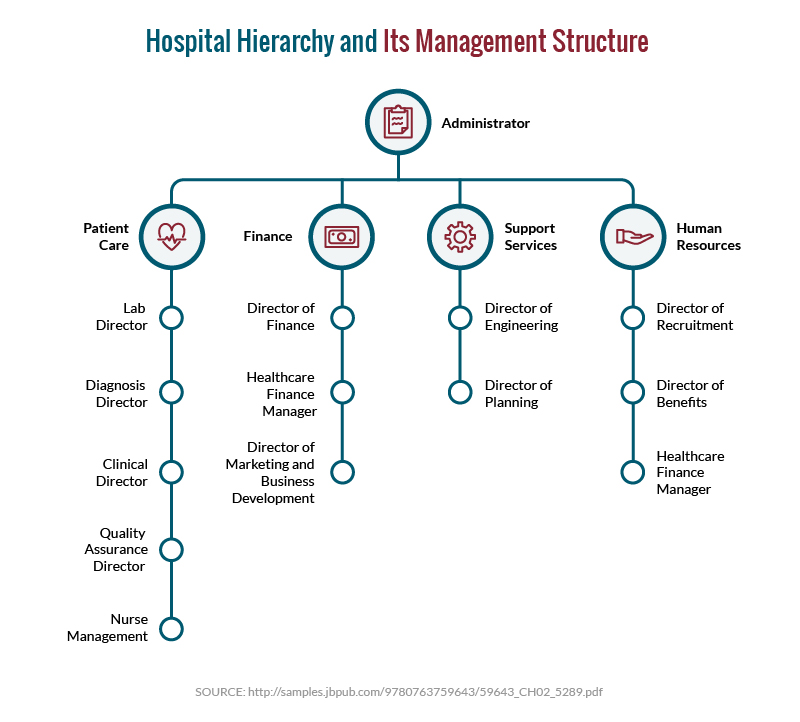 Management Responsibilities
A hospital's functionality is not possible without the influence of lower-level management teams and mid-level professionals, which include the work of coordinators and administrators.
You Might Also Like: Healthcare Management Industry Profile and Outlook
The reason for such an expansive division is due to the resources and internal areas of focus managers need to address daily, such as ensuring the appropriate number of staff, financial performance and quality of care. The responsibilities are then categorized and assigned based on the following administrative areas:

Other Healthcare Administrative Structures
With the rise of competitiveness in the healthcare marketplace and for-profit managed care, innovation has paved the way for new administrative structures, which include:
Team-based models: Within this structure, management teams can directly command specific units like nurses or physician assistants, which wouldn't usually fall under these manager's wings. For example, a team of nurses might be required to help a marketing team complete field research.
Service line management model: This structure finds a manager appointed to a specific service department and in charge of staffing, coordinating and budgeting. Examples of service lines include departments like cardiology, oncology and women's health centers. Service lines can be part of the functionality of hospitals and adopted when they offer services in other locations outside of the main building.
Is the Hospital's Hierarchy Sustainable?
Despite the longstanding functionality and services of hospitals, some experts are calling for even more specialization. As hospital administrators become more businesslike, so can the centers they run. According to Stuart M. Butler, a Senior Fellow at Brookings, "Hospitals should be hubs that emphasize social services over medical repair."
Another possible model, according to Butler, is for hospitals to brainstorm how the business can incorporate smaller but more specialized and efficient services, with "patients going to different hospitals for different procedures."
As hospitals become more complex, rising professionals have the opportunity to solve some of the industry's most difficult questions and be a part of the change. Those who are knowledgeable of organizational structure and how hospitals function can lead effective teams and foster patient satisfaction.