Get program guide
YES! Please send me a FREE brochure with course info, pricing and more!
This Lean Six Sigma Black Belt online course provides the advanced tools and approaches that managers and leaders need to grow and apply their process improvement skills. This course delivers Lean and Six Sigma content that builds on what was learned at the Green Belt level. Upon completion, you will be eligible to earn your Lean Six Sigma Black Belt certification online from Florida Tech.
What You'll Learn
Course participants learn how to:
Analyze the purpose and applicability of Lean Six Sigma tools and techniques
Implement the DMAIC approach to process improvement
Examine organization-wide process improvement considerations
Assemble effective Black Belt project teams
Employ software programs, including Minitab and Excel, to analyze data and validate root cause and associated solutions
Participants are also presented with many opportunities to apply Lean Six Sigma tools and techniques to implement change while conducting scenario-based Black Belt process improvement tasks.
Participants will be positioned to apply the DMAIC methodology and Lean Six Sigma tools to optimize process improvement and lead Black Belt project teams. They also will be prepared to take the Lean Six Sigma Certified Black Belt (LSSCBB) Examination. View curriculum here.
An Immersive Learning Experience
The Lean Six Sigma Black Belt online course at Florida Tech provides an innovative, learner-focused experience by incorporating scenario-based learning to concept comprehension and mastery of Lean Six Sigma tools and techniques. The interactive, contextual model of learning allows participants to apply course insights to specific real-world challenges.
This premier learning experience provides immediately applicable knowledge and skills. Course materials include:
Video presentations with industry experts
Self-assessment activities
Instructor-led live review sessions
Knowledge assessments
Application of Minitab, a statistical software package
With project-centered learning to ensure optimal application, the Lean Six Sigma Black Belt course is customized for the needs of professionals.
Industry Expertise
With over 100 years of combined experience across industries, our instructors are expert practitioners in the process improvement field. Skilled in multiple versions of Lean, Six Sigma and Lean Six Sigma, they have deep knowledge of executing projects, consulting, deploying, training and managing in companies using Lean Six Sigma.
Course Length & Price
This 6-week course is $3,695. Upon passing you will earn 4.0 CEUs/40 PDUs.
"I've had it in the back of my mind to do this, but I wanted a course that wasn't going to take six months to finish. I wanted to leverage what I already knew about Six Sigma and project management to accelerate my learning. Over the years, businesses demand faster project turnaround with increasing levels of quality. Florida Tech felt like the right choice for me."
-Minor Rojas, Lean Six Sigma Certified Black Belt
Accreditation
Florida Institute of Technology is regionally accredited by the Southern Association of Colleges and Schools Commission on Colleges to award associate, baccalaureate, master's, education specialist, and doctoral degrees.
Careers
Lean Six Sigma Black Belts are typically mid- to late-career professionals who possess or aspire to leadership and management positions. Leading process improvement projects, Lean Six Sigma Black Belts guide teams and mentor Lean Six Sigma Green Belts in their organization. Lean Six Sigma tools and techniques are implemented in industries including technology, manufacturing, construction, engineering, healthcare, aerospace, pharmaceutical and business.
According to ASQ*, common job titles for Six Sigma Black Belts are:
Analyst
Consultant
Educator/Instructor
Process/Quality Engineer
Supervisor
Black Belt
Director
Manager
Statistician
Vice President/Executive
*ASQ, Quality Progress, Salary Survey 2018, on the internet at http://www.nxtbook.com/naylor/ASQM/ASQM1218/index.php#/0 (accessed May 22, 2019).
National long-term projections may not reflect local and/or short-term economic or job conditions, and do not guarantee actual job growth. Degree and/or certificate program options do not guarantee career or salary outcomes. Students should conduct independent research for specific employment information.
Course pricing and curriculum are subject to change.
Learn More
Discover the flexibility and quality of Florida Tech's online programs. Learn more about our degree and certificate programs, tuition and the advantages of online learning.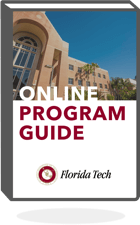 Thank You!
An enrollment services representative will contact you shortly.