Get program guide
YES! Please send me a FREE brochure with course info, pricing and more!
Our Mastering PM Concepts: A PMBOK®Guide Study course, offered 100% online, provides you with in-demand core project management knowledge from the Project Management Body of Knowledge (PMBOK®Guide) – Sixth Edition. You don't have to put your career on hold to master the common language and methodology that you will acquire from this course, which is valued by organizations across industries.
What You'll Learn
In just six weeks, you'll master concepts from the PMBOK®Guide– Sixth Edition, including the unique and challenging aspects of the PMBOK®Guide tools, language and concepts. You will gain insight into the project lifecycle; project, program and portfolio management; organizational structures; and integration, scope, resource, communication, procurement, risk and stakeholder management. From learning best practices in each phase of the project's lifecycle to being able to balance stakeholder requirements, you will acquire the skills needed to implement strategic initiatives, drive change and deliver innovation. View curriculum here.
Industry Expertise
This course is taught by thought leaders and game changers in the project management field, from NASA engineers and Air Force veterans to international business leaders. With their critical insight into thePMBOK®Guide, our instructors are some of the most highly recognized in the project management profession. These experienced and dynamic presenters have contributed to some of the most important texts in project management, including the PMBOK®Guide– Sixth Edition, The Handbook of Program Management, and Risk Management:Concepts and Guidance, Fifth Edition.
Course Length & Price
This 6-week course is $1,695. Upon passing you will earn 4.0 CEUs/40 PDUs.
Accreditation
Florida Institute of Technology is accredited by the Southern Association of Colleges and Schools Commission on Colleges to award associate's, baccalaureate, master's, education specialist and doctoral degrees.
Careers
This course can benefit project managers, operations managers, project contributors, trainers, consultants, business leaders and mid-level managers in a variety of industries, including information technology, aerospace, construction, healthcare, pharmaceutical, government, engineering and business. Professionals seeking to switch to a career in project management can also benefit from this course by mastering core project management concepts. In the upcoming decade, there are expected to be 87.7 million project management jobs around the world.* The average certified PMP® earns $108,000 per year.**


*Project Management Job Growth and Talent Gap 2017-2027, Project Management Institute
**Earning Power: Project Management Salary Survey, Ninth Edition; Project Management Institute

PMBOK is a registered mark of the Project Management Institute, Inc.

Course pricing and curriculum are subject to change.
Learn More
Discover the flexibility and quality of Florida Tech's online programs. Learn more about our degree and certificate programs, tuition and the advantages of online learning.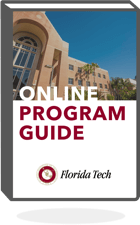 Thank You!
An enrollment services representative will contact you shortly.