Skip to main content
Get Our Program Guide
If you are ready to learn more about our programs, get started by downloading our program guide now.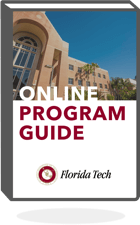 Get the Financial Aid Guide
Discover the different ways to pay for college and learn more about the FAFSA process.
Learn More
Discover the flexibility and quality of Florida Tech's online programs. Learn more about our degree and certificate programs, tuition and the advantages of online learning.