Just like the phrase "your head is in the clouds," so is most of the people's information. Well, partially. Cloud computing allows individuals, as well as organizations, to store and access data through the internet instead of a hard drive.
Despite the technical jargon that comes with understanding this technology, its scalability allows organizations and users to manage as much data as they want.
At the rate that it's growing, the cloud can be categorized into three digital spaces: public cloud computing, private cloud computing and hybrid cloud computing. In terms of market impact, a 2016 Gartner study found that public cloud computing takes the lead.
What is Public Cloud Computing?
The public cloud is defined as a computing service offered by third-party providers over the public web. These services are available to anyone who wants to purchase them. Most of them are free or sold, which allows customers to pay only per usage, storage or bandwidth they consume. Employees that use the public cloud can use the same application from any location, using their device of choice, if they can access the internet.
When implemented correctly, the public cloud is as secure as private cloud implementation. In this case, the provider must use proper security methods like intrusion detection and prevention systems (IDPS).
The major public cloud computing servers are Amazon Web Services, Microsoft Azure and Google Cloud. In 2018, a survey by IDG broke down significant findings of enterprises' relationship with cloud computing. According to the survey, companies allocated nearly half of their IT budgets to cloud computing in 2018. Most of them said that their IT departments feel pressure to migrate 100% to the cloud. There are two major reasons for the wave of data migrations to the cloud.
First, companies can lower the cost of maintaining in-house hardware by buying or renting provider services. Second, using public cloud services can reduce the chance of a company data leak. Contrary to popular belief, the cloud is a safe space for most data, and many leaks tend to be caused unintentionally by employees, according to an SHRM article.
Other public cloud computing benefits include:
Better insights into Big Data
Increased accessibility to data and cross-team collaboration
Stronger ties with customers
Faster product and service performance
Measurable investments
How is the Public Cloud Structured?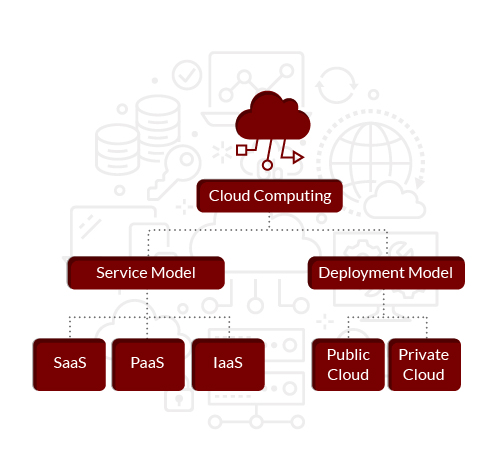 The public cloud's architecture is virtual and allows users to use complex applications like Salesforce from any internet-connected device. To prevent data losses, service providers can store replicated files across many data centers. This process ensures a fast disaster recovery.
Public clouds can be structured differently depending on the service being provided. Enterprises, small businesses and individual users tend to choose three common models available on the tech market:
SaaS (Software-as-a-Service)
The S for this name stands for software, which is used as a cloud model service through which a provider distributes software hosted in the cloud. This means that individual users don't need to install software on their devices. This model can also reduce the need for hardware and cuts down support and maintenance costs.
Examples: DocuSign, Dropbox, Slack
PaaS (Platform-as-a-Service)
This model is based on a platform as a service that allows organizations to develop software without having to maintain its basic infrastructure. In practice, a provider builds and supports an updated data environment that the provider sends to users through a broadband connection.
Examples: Windows Azure, Heroku, Force.com
IaaS (Infrastructure-as-a-Service)
Infrastructure as a cloud service is a model that lets organizations outsource their entire data center to a cloud service provider. Once the provider receives the data, it maintains the virtual environment and server storage. This last model makes cloud computing simpler for some businesses because it's more cost-efficient than purchasing and maintaining in-house hardware.
Examples: Google Compute Engine (GCE), AWS EC2, Magento 1 Enterprise
Public Cloud vs. Private Cloud
Like its counterpart, private cloud computing is supplied by a service provider or constructed inside an organization's data center. But private clouds are more secure because their resources are only offered to specific users. For example, a corporation's IT department requires a private network to function.  Organizations or businesses that must keep data in-house due to compliance issues are likelier to choose an extension of their traditional data center in the form of private cloud space.
Industries Adopting Cloud Computing
The proliferation of cloud-based technology isn't restricted to the tech industry. Roughly 69% of enterprises are moving their most business-critical workloads to the cloud.
According to a data report by Okta, a technology management provider, non-technology industries are slowly but effectively using cloud applications. The tech provider collected data from thousands of applications and enterprise customers to summarize their findings. Some results came from the following industries:
Healthcare: For the past five years, the healthcare industry has undergone a digital makeover. The nature of patient care and information management has pushed hospitals and healthcare providers to use document storage, human resource and marketing applications to speed up their services. 72% of providers use cloud mail apps, and 23% are using cloud platforms, according to Okta's report.
Education: 87% of educational organizations on Okta's network use cloud applications for email, and 40% use cloud human resource systems or document storage.
Finance: Although the financial industry lags in the adoption of cloud platforms, Okta's report shows that human resource cloud application adoption rate reaches 40%, while 70% of companies in their network have included their email, sales and marketing tools in the cloud.
Depending on their IT needs, cloud computing applications can allow organizations to achieve a more centralized management of their business.