Get program guide
YES! Please send me a FREE brochure with course info, pricing and more!
The Master of Science in Supply Chain Management explores industry concepts and provides a deeper understanding of SCM's inner workings, from point of origin to point of purchase. Through the specialized curriculum, you will build a foundation of knowledge that can be immediately applied in the workplace to improve processes and create efficiencies. The coursework also prepares you for industry certification exams. This 100% online program is designed for professionals who want to be competitive in areas such as purchasing, manufacturing, transportation and consulting.
What You'll Learn
Our supply chain management degree provides an overview of fundamental business applications, as well as specialized knowledge in managing the flow of materials, developing logistics strategies, merging transportation policies with production and marketing tactics, and global supply chain analysis and planning.
You will also explore:
Production and operations
Inventory management
Sourcing and purchasing
Logistics and reverse logistics
Product development
Managing capacity and quality
Performance metrics
How to design and manage an effective supply chain, understand and apply supply chain analytics, and conduct demand forecasting, aggregate planning, and sales and operations planning are also covered.

Military

Logistician and Supply Chain Manager is one of the hottest jobs for veterans, coming in at No. 3 on G.I. Jobs' 2016 Top 25 Hot Jobs for Veterans list**. That's because veterans understand the importance of getting the appropriate materials to the right people at the right time, from transporting, tracking and delivering goods, ammunition, vehicles and life-saving equipment. On-the-ground experience cultivates decision-making capabilities, adaptability and leadership skills in servicemembers – all abilities suitable for supply chain management.

Looking to transition your military experience to a supply chain career path? Florida Tech offers a 10% graduate tuition savings for active-duty servicemembers, selected Reservists, National Guard members and honorably discharged veterans, and their spouses.

Reductions are valid off the standard tuition and program fee rate of any degree or certificate offered through Bisk Education. This reduction is not stackable with other reductions, and you may not use this reduction in conjunction with other reductions.

See sample curriculum here. Find textbooks and materials required for each specific term.
Accreditation
Florida Institute of Technology is accredited by the Southern Association of Colleges and Schools Commission on Colleges to award associate's, baccalaureate, master's, education specialist and doctoral degrees.
Careers
Organizations in virtually every industry use supply chains in their daily operations, including military, government, retail, finance, transportation and telecommunications. As a graduate of this online degree program, you'll be prepared to pursue a variety of upper-level supply chain management positions, including:
Logistics Manager
Supply Chain Manager
Purchasing Manager
Supply Chain Analyst
Director of Purchasing
Transportation Manager
According to a report by the Institute for Supply Chain Management*, the average salary for supply chain professionals is $117,425, with the top 5 percentile at $368,505.
Why Florida Tech
Choosing Florida Tech to further your education means you'll earn your degree from a private, nonprofit, nationally-ranked university. Named a Tier 1 Best National University by U.S. News & World Report (2019) and ranked a Best Value College in Florida by PayScale's ROI Report (2018), Florida Tech positions students to pursue success by offering its rigorous academic programs 100% online. Other benefits of Florida Tech include:
Learn from subject matter experts and industry practitioners
Be supported throughout your academic journey with a dedicated support team
Collaborate in an interactive and user-friendly online classroom
Access course materials anytime, anywhere with 24/7 access
Communicate and network with classmates from all over the country
Alumni include NASA scientists, Fortune 500 CEOs and top military generals
"I currently work at a 3rd party logistics provider that offers consulting and training. I believe this degree is going to offer up some great opportunities with my company. It shows them that I am serious about my career because I'm willing to invest in myself."
- Rebecca Kleisinger, MS in Supply Chain Management, Class of 2020
Citation/Disclaimers:
*SM Professionals Average Salary $117K. Institute for Supply Management, ISM's 2018 Salary Survey, May 2018. Accessed April 12, 2019. https://www.instituteforsupplymanagement.org/files/Tools/2018%20Salary%20Survey%20(Summary%20FINAL).pdf.
** Top 25 Hot Jobs for Veterans 2016, G.I. Jobs, on the internet at https://www.gijobs.com/top-25-hot-jobs-for-veterans-2016/2/. (August 5, 2019)
National long-term projections may not reflect local and/or short-term economic or job conditions, and do not guarantee actual job growth. Degree and/or certificate program options do not guarantee career or salary outcomes. Students should conduct independent research for specific employment information.
Learn More
Discover the flexibility and quality of Florida Tech's online programs. Learn more about our degree and certificate programs, tuition and the advantages of online learning.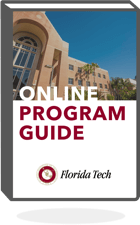 Thank You!
An enrollment services representative will contact you shortly.